Now that I have been using Hostwinds for just about 6 months, I feel like I can give some insight into my experience with them. I will update this as time goes on (or obviously if my recommendation changes).
Exploring my options…
When I was first looking into web hosting for a blog, I joined a Facebook blogging group where the owner recommended Bluehost to every person who joined the group. If someone asked about a different hosting service, the owner would always disapprove and list various reasons.
This started to convince me that Bluehost must be the best of the best. Then, I realized it was against the group rules to recommend another hosting service. When I started to learn about affiliate programs and links in the field of blogging, it then dawned on me that the owner of that group was so biased towards Bluehost because they were getting paid from Bluehost every time people signed up through their link. It left a bad taste in my mouth towards the owners and their FB group when I realized that is why mentioning any other hosting companies was forbidden. The admin of the group would not say that was the reason of course. They would say something like "Well, so and so has used Bluehost for years and they really think they're what everyone should be using…"
On top of this, bloggers in other groups were writing bad reviews for Bluehost. I read of many instances where Bluehost's customer service was lacking or even worse, their customer support was nowhere to be found. Of course, those kinds of posts were immediately deleted in that particular blogger group I talked about. In the end, I decided it was best to explore other options besides Bluehost…

Anyway, moving on (now that I've wasted a chunk of time rambling about that… 🙄😅)…
Hostwinds made the process easy…
Joining Hostwinds was a smooth process. Everything was decently user-friendly. There was even a WordPress app installer. That means that I just clicked on it in the cPanel and followed the prompts. It did all of the linking a WordPress site with the hosting & domain name for me. It was super simple!
When I first read the steps on linking WordPress to your domain (on WordPress support pages), I was a little nervous about figuring it all out. When I started a blog in the past, I had to link my WordPress manually, but that was years ago now. So, I figured I would just have to relearn the process. After signing up for Hostwinds, I was surprised and excited to find that this WordPress app installer existed at Hostwinds.
I also use Hostwinds to have an @mydomain.com email address. I use that email address for my contact form on my website and other similar "blog business."
My Experience With Hostwinds Customer Support
In my 6 months at Hostwinds, I only had one hiccup where I had to contact support. Now, I believe that the "hiccup" was really an issue on my end. Updating multiple plug-ins at once seems to interrupt my site briefly. I panicked though and immediately contacted Hostwinds. I used the live chat feature. They were so helpful and easy to speak to… They helped me file the appropriate support ticket.
After that, I quickly received a follow up on my support ticket. I want to say that I got a response within a couple hours of filing the support ticket, maybe even within the hour. The support team was extra thorough. They said my site looked like it was running fine on their end. They let me know they ran tests and confirmed that it was working in different browsers. Next, they asked if I could send a screenshot of the page I saw when trying to access my site. When I went to grab a screenshot, I realized my site was functioning properly after all. I felt terrible for wasting their time… However, they were really understanding and didn't make me feel bad about the situation.
Pros of Hostwinds (that set them apart from competitors):
Free domain
Free domain transfer
Unlimited email accounts (also free!)
Inexpensive & affordable (plans starting at $8.99 a month)
Ability to pay month-to-month
Great initial offer/discount! (Even their 12 month plan has an initial offer that makes it just $1.75 a month right now for the first year [if paid up front])
Cons of Hostwinds:
I would say the only con to Hostwinds may be that they are not very popular or very well known. This means that there are not many reviews out there. Many people do not recognize the name Hostwinds. Down the road, I could run into issues with Hostwinds. I am not sure how trustworthy they will be long term. They have an amazing initial offer though so it can't hurt to try them! So far I can vouch for them and say my experience has been great though!
If all of this sounds good, please consider using my link to sign up for Hostwinds! I will be compensated if you use my link. But it would be greatly appreciated 🙂 I'll paste the banner to sign up here: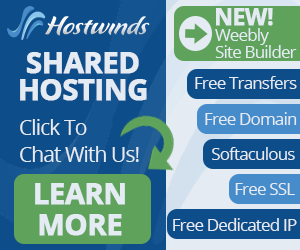 Let me know if you decide to sign up and how you like it! Leave me some feedback in the comments down below. Thanksss! 🙂
Disclosure: I am a participant in the Amazon Services LLC Associates Program, an affiliate advertising program, as well as the Hostwinds affiliate program. This is designed to provide a means for sites to earn advertising fees by advertising and linking to these sites.